Our new wheelchair accessible vehicle has arrived!   We are delighted with it – thanks Gowrings Mobility.
Our Head of Transport took this picture on a recent sunny day.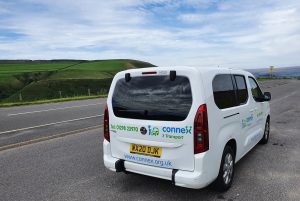 Although Transport is currently operating a limited service due to the ongoing pandemic, we are very much looking forward to better times when we can once again take people out in it. To see what services we are currently running, check our Transport page.
Thanks again to all the people and organisations who donated to help us buy the vehicle.  Your support means the world to us and lets us carry on helping others who need us.