Connex Community Support were delighted to be nominated by one of our service users for the Derbyshire Beacon of Hope Awards recently.
The Derbyshire Beacon of Hope Awards were set up for groups or individuals who worked tirelessly to keep our communities safe and our businesses moving during the global COVID-19 crisis.
The ceremony to present our award took place yesterday at Ilam Hall. Here is Cllr Jean Wharmby presenting it to our Derbyshire Dales team.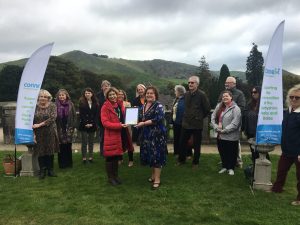 "The volunteers and staff at Connex Community Support have pulled out all the stops in the last year, helping everyone in their area adversely impacted by the pandemic receive essential shopping supplies, prescriptions, regular friendly phone calls, well-being packs and enabling them to get to vaccination appointments and so much more. As well as carrying out tasks, they've delivered unexpected birthday cakes, flowers, cards, jigsaw puzzles and nurturing gifts to brighten up people's lives."
Well done to all our wonderful staff and volunteers for helping us to achieve this wonderful recognition of our efforts.  This is YOUR award!