Meeting room hire in Buxton and Ashbourne
Please note: we are currently not hiring out meeting rooms until we feel it is safe to do so.  Apologies for any inconvenience.
Who do we help and how?
We can offer organisations and individuals meeting room hire in Buxton and Ashbourne.
Our Buxton and Ashbourne offices both have meeting rooms which are available for anyone to hire and offer the following:
Rooms to accommodate up to six people comfortably round the table
Additional chairs
Flipchart
Wi-Fi
Photocopying and Printing facilities – available for a small charge
In Buxton we have two rooms – one wheelchair accessible room on the ground floor and another room on the first floor, suitable for counselling or one to one meetings (see the photo on the right).
Will it cost me anything?
Yes. For our Buxton rooms, we charge a standard rate of £8.50 per hour for our meeting rooms. You can also hire for blocks of time as follows:
£22.00 for a morning (9.30am-12.30pm) or an afternoon (1pm-4pm)  and £45.00 for a full day (9.30am-4pm) Monday to Thursday.
On Fridays the room can be hired in the morning (9.30am-12.30pm) for £22.00 or for the day (9.30am-3pm) for £40.00.
Rates are negotiable for block bookings. For our Ashbourne room, we charge £12 per hour, again rates are negotiable for block bookings.
How do I arrange to hire a Meeting Room? 
You can arrange Meeting Room hire over the phone with us. We will then confirm arrangements for your room bookings.
Please note if you have booked a Meeting Room, any cancellations less than 24 hours ahead will be charged at full rate.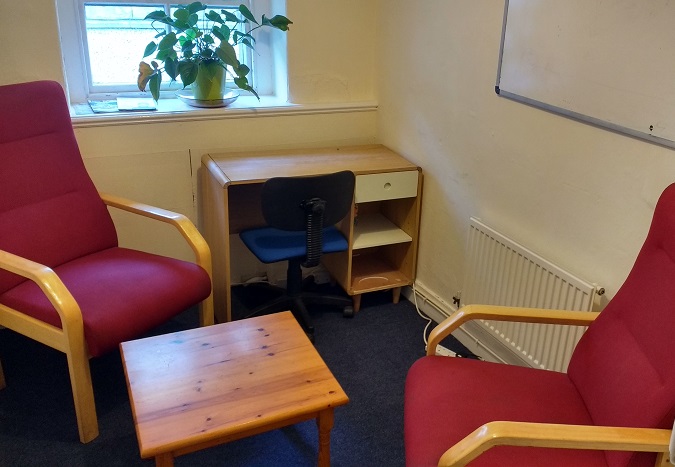 Ashbourne Office
For meeting room enquiries or wheelchair bookings from our Ashbourne office, please contact:
Email: juliet@connex.org.uk
01335 348600