Connex Community Support
We are recruiting!!!!
Support workers – various locations
See our Vacancies under 'About Us' for details.
Connex Community Support is a charity dedicated to helping people in need.
We help older people, families, children and young people.  We help them live safer and more fulfilled lives within their communities.
We understand what people need and how to provide it.  Caring is at the heart of what we do and we respect the dignity of the people we support.
We help people to feel less isolated and to retain their independence, we work with people with disabilities and we support carers.  We help people to build skills and confidence through volunteering.  These are just a few of the ways that Connex Community Support can change people's lives.
But don't just take our word for it.  Take a look at the video to see what the people we work with have to say.
Wow – well done, Ellie, Lilly, mum Emma and Kindah!!
This fabulous team of girls took part in XRace in Sheffield on Saturday and managed to raise £235 for our Sibling Support service – way over their initial £50 target!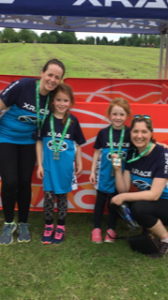 A huge thank you to them, and to everyone who sponsored them!
If you would like to find out more about supporting Connex Community Support and the work we do, call us on 01298 23970
Our fundraiser event 'Jazz at the Pump Room' took place last Friday evening and was a big hit!  The wine flowed and plenty of cheese was consumed, all whilst enjoying the great jazz sounds of the GPS Trio .  Our own staff and volunteers from the Pump Room were there...
read more