Who do we help and how?
Tea, Talk and Tech is a new pilot project designed to help combat loneliness of older people in residential care in our communities, by helping them engage with technology in comfortable and enjoyable ways.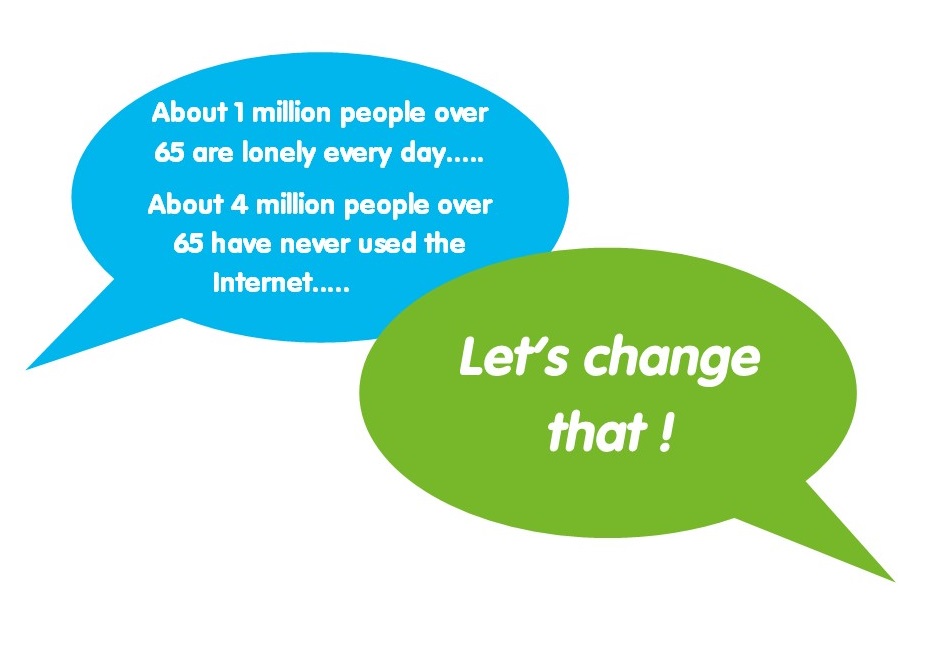 Our mission is to connect older people with the community, bring fun, laughter, and new experiences to their lives and make their days brighter!
People in care homes are on average twice as likely to experience loneliness, so we will be working with selected care homes in the Derbyshire Dales and their residents to identify how to get people connected, which ways work best for them and what people would like to use technology to help them with.
Why technology?
Technology can have many benefits for elderly people.  It helps people to connect with loved ones, meet new people, explore new opportunities and experiences.  It can also positively influence both mental and physical health and tackle depression and loneliness. Tea, Talk and Tech will explore how to send emails, make video calls, search the Internet and play online games – in fact, anything that people are interested in, we will try to include.
Why now?
The 2020/21 coronavirus pandemic had a significant impact on our lifestyles and made digital inclusion more important than ever. Because of social distancing measures put in place to protect the most vulnerable, our lives shifted more and more into digital space. This left many older people isolated from the outside world both physically and digitally.  Tea, Talk and Tech will explore how this could be changed and bring older people who've had little or no previous experience of technology into the digital world.
Tale a look at our short video to see the ways technology can help:
Will it cost me anything?
Not a thing!  All we ask is that your care or residential home is willing to work with us to develop the best possible options for residents and that you already have Internet access at the premises.
How do I get join in with Tea, Talk and Tech?
We will be working with care and residential homes in the Derbyshire Dales area on Tea, Talk and Tech.  If you know of someone who would benefit from this project, or work at a care or residential home which might be interested, please contact the project coordinator, Kristyna, using the details below.
Would you like to help as a Tea, Talk and Tech volunteer?
'We're hoping to bring a little bit of the outside world in to residents in a fun and person-centred way!'