Who do we help and how?
Tea, Talk and Tech is one of our newest projects in the Dales.  Developed from our digital support work during the pandemic, we wanted to help people get connected online, in an informal way over a cup of tea!  Adopting a person-centred approach we work with people to find ways to demystify technology.
We work with people in their own homes and in community hubs. 
We are also delighted to be opening our first Digital Connextions Café at the new Ashbourne Sports & Community Pavilion in April 2022.  Other cafes are also in the pipeline!
Our Mission
Our mission is to connect older people with the community, bring fun, laughter, and new experiences to their lives and make their days brighter!
We work across the Derbyshire Dales to identify how to get people living in residential care, retirement facilities as well as those living independently connected. The individualised approach is key for what we do, and we try to find which technology works best for each of our clients.
Why technology?
Technology can have many benefits for elderly people.  It helps people to connect with loved ones, meet new people, explore new opportunities and experiences.  It can also positively influence both mental and physical health and tackle depression and loneliness. Tea, Talk and Tech will explore how to send emails, make video calls, search the Internet and play online games – in fact, anything that people are interested in, we will try to include.
Why now?
The 2020/21 coronavirus pandemic had a significant impact on our lifestyles and made digital inclusion more important than ever. Because of social distancing measures put in place to protect the most vulnerable, our lives shifted more and more into digital space. This left some people more isolated than ever.
We hope that Tea, Talk and Tech will enable people to explore the digital world without fear!
Tale a look at our short video to see the ways technology can help:
Will it cost me anything?
Not a thing! Even the tea and biscuits are free at our Digital Connextion Cafes.
How do I join in?
If you are interested or if you know of someone who would benefit from this project, or works at a care or residential home that might be interested, please contact us via phone on 01353 348600, via email teatalktech@connex.org.uk, or download a referral form here.
Digital Connextions Café
Our first café at the Ashbourne Sports & Community Pavilion will open each Thursday, between 11 and 1pm.  Free tea, coffee, biscuits and digital support!!

You're welcome to pop in with your questions, or gadgets, or to use our laptops with our support (they may need booking to avoid disappointment).  Please phone us on 01335 818283 if you'd like some more information or to say hello.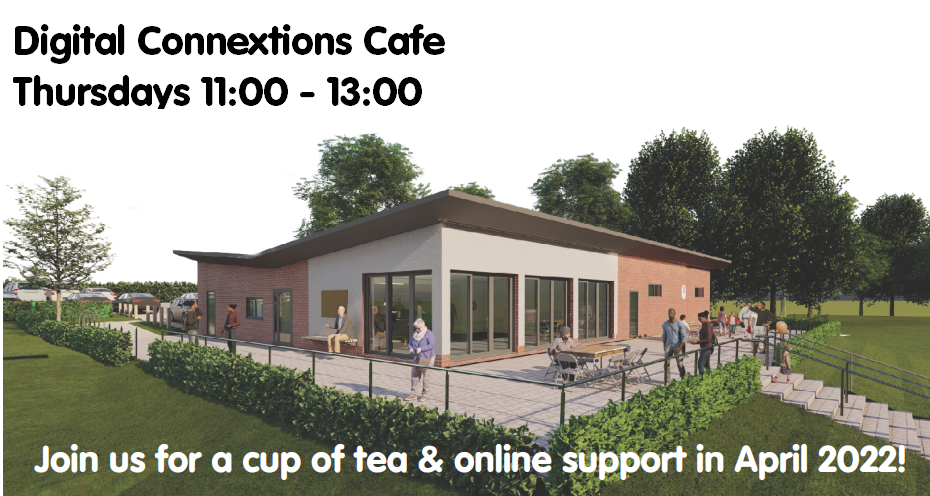 Would you like to help as a Tea, Talk and Tech volunteer?
"Not being able to go online in the 21st century, is like not being able to read in the 20th"  
'We're hoping to bring a little bit of the online world to all, in a fun and person-centred way!'