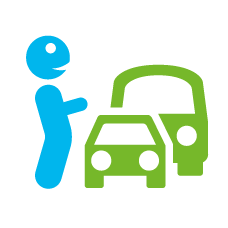 Transport
Who do we help and how?
Our volunteer drivers help to provide transport for older people (over 65), disabled people, or people with learning difficulties which would prevent them from using public transport.  We also have a wheelchair accessible vehicle available should you require this (based at our Buxton office).
We cover an area across the High Peak and Derbyshire Dales from Sudbury to Furness Vale and will provide transport to:
Medical and hospital appointments
Group activities or meetings
Social outings to any mainland UK  destination
The volunteer driver will usually wait for you at your medical appointment for up to 2 hours and then bring you home again if required.
We also operate on behalf of Derbyshire County Council – Connect Active Travel.  For more information on this please click here. This service covers healthcare related appointments, including:
Medical and hospital appointments
Opticians
Dentists
Chemists or Pharmacy
Physiotherapists
Any other healthcare related organisations
How much does it cost?
A charge is made for our Transport Service to cover the cost of fuel and wear and tear of the volunteer's vehicles.  This is a fixed charge and the amount will depend on the location.
An invoice will be sent out to you on a monthly basis, so you do not need to pay us when you book, or pay your volunteer driver.
How do I book transport?
If you have not previously used the Transport Service, you must register with us before you can book a journey. This is a simple, five minute chat where we will ask for your personal details such as name, address and date of birth and if you have any additional needs that will require support on your journey. Once this has been completed, we can book your journey for you.
When you phone to book we will advise you of the cost of your journey.
As this is a voluntary service, we cannot guarantee that we can provide a volunteer driver.  However, with sufficient notice we will usually manage to find a driver for you.  Consequently, we do prefer people to book all transport journeys as early as possible – days, weeks or even months in advance. We do understand that sometimes this is not always possible.  Please be aware that if you call with less than 48 hours notice, the chances of us securing a volunteer driver for your journey are greatly reduced.
We regret that we are unable to transport children/young adults under 18 or people with severe mental health/learning difficulties unaccompanied.  For these passengers, an appropriate adult must be present throughout the transport.  If this cannot be provided then an ambulance place should be available – please contact your doctor to arrange.  
Minibus transport
Available from our Buxton Office only, we also have a fully wheelchair accessible minibus.  The cost for the use of this vehicles is as below:
16 Seater Minibus: £1.29 per mile
£20.00 Minimum Journey charge (payable if the journey goes ahead or not)
Can I book transport for a weekend journey?
Yes. Our Buxton/High Peak Transport Department is open Monday-Friday from 9.30am to 12.30pm and 1pm to 3pm for booking and enquiries, but we can provide transport 7 days per week.
Our Ashbourne/ Southern Derbyshire Dales Transport Department is open Monday – Friday from 09:00 to 1pm.
Who will drive me?
You will be driven by one of our team of volunteer drivers, all of whom undergo a thorough check by the Disclosure & Barring Service (DBS).  We recommend that you ring us the day before your trip to find out who your volunteer driver will be.
Would you like to help as a volunteer driver?
Thank you so much for the wonderful service.  The lady who took me to my appointment was so kind, it was just like going with a friend.